Design, Planning + Consultations
bsq Landscape Architects offers full Landscape Design and Landscape Planning and Development services.
We seek to involve our clients as much as possible as we develop the design from initial concept drawing that explore ideas and spaces to producing exact 3-D models that examine proposed concept plans from every angle, down to the last inch.
We can provide site specific drawings for all types of sites including residential yards and gardens, large estates, commercial properties, townhouses, terraces and urban rooftops.
Full landscape plan drawings, planting plans, landscape master plans, full working drawings packages and custom landscape design details are also available as required. Fully rendered colour 3-D models and plans can also be prepared as effective presentation and display tools to communicate design intent.
With our services comes: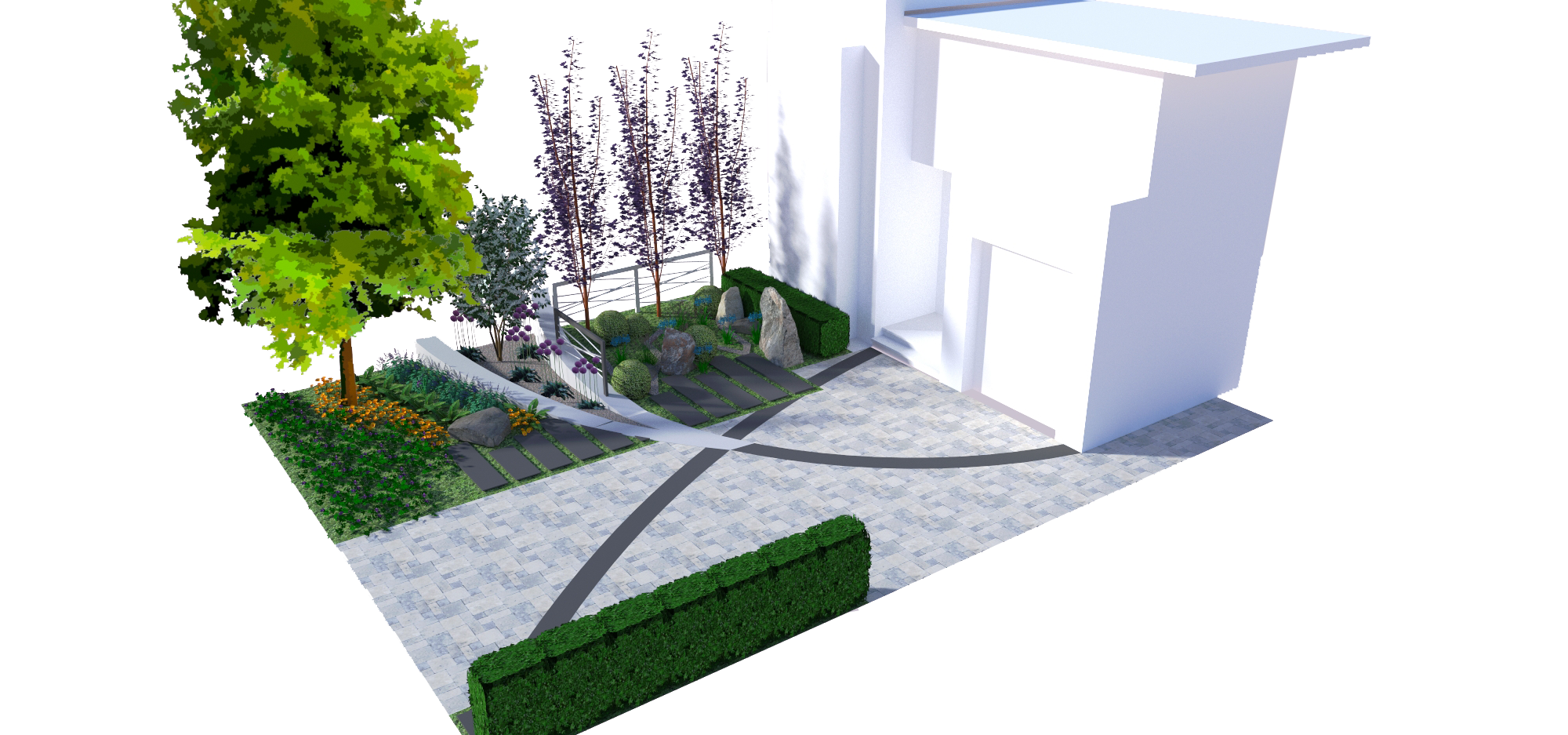 SURVEY EXISTING SITE CONDITIONS
We create full site plans for existing garden with pertinent existing conditions information including hard surfaces, property lines, house footprint, front steps/ entrance, overhead utilities, and any mature and existing trees and vegetation within and beyond site boundaries, down spouts, fencing and grading.
CONCEPTUAL DESIGN
Complete plan view conceptual drawings and illustrations.
Feature proposed front and rear landscape layouts including new patio and deck concepts, garden design, contemporary seating and entertainment area, vegetation, entrance and front door approach, driveway configuration and planting options, with new layouts and configurations for required rear garden and front driveway retaining walls
ADVANCED CONCEPTUAL DESIGN/ 3-D RENDERING
Create 3-D models of the preferred design concept to explore the proposed elements of the design.
Some of the types of things we can accomplish by creating a 3-D model are:
Examine new deck, bbq and seating layouts and how they successfully correlate with each other

Discover the ideal location for spa or pool

Review the sun and shade patterns

Explore various placement of outdoor furniture

Preview unique design structures

Grasp the proportions of the landscape and all element
LAYOUT PLANS
Provide detailed working set of plans showing the extent and type of materials along with budget sensitive solutions, grading and a layout plan to scalewith dimensions.
PLANTING PLAN
Provide planting plan showing type and quantity of suggested tree (s), perennials, shrubs, ground covers and ornamental grasses including re-shaped garden beds.
DESIGN DETAILS, PERMITS APPLICATIONS & ZONING ENQUIRIES
It is our goal to provide to our clients complete, comprehensive and buildable landscape plans as part of the design phases listed above. Sometimes it is possible to do all of this with only a landscape plan without requiring any additional drawings or details but in certain cases it may be necessary to design and specify individual items in greater detail so they can be budgeted and integrated as required.
WHAT TO EXPECT
Some examples of these potential elements requiring additional design work:
Custom walls, structures and steps, built-in BBQ areas or outdoor kitchens, custom arbors, pergolas or gazebos, new spas or water features and many other specialized landscape elements.
WHAt we may encounter
It may also be advisable to make enquiries, submit applications and develop specific drawings to various municipal departments such as;
Zoning, Forestry, Municipal Licensing and Standards or the TRCA to facilitate and guide the design process.
If we feel that detail design is required or advisable; if we need to make enquiries; apply for permits we will advise you accordingly and give you a budget for the estimated time required.